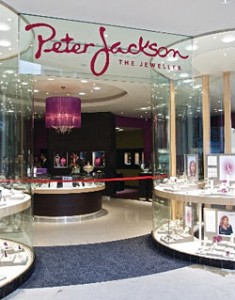 Peter Jackson the Jeweller started life in St. Georges Centre, Preston in 1982. The Blackburn branch was opened in 1988. Southport followed in 1999, our fourth store opened in Carlisle in 2002 and we added Bury to our portfolio in 2010. As part of our 25th Anniversary celebrations we unveiled an exciting and innovative new shopping environment at our enlarged and re-built store in Preston.
We are a family owned and run jeweller and have worked tirelessly to develop a reputation as one of the leading jewellers in the region, offering a magnificent collection of gold and diamond jewellery, wedding rings and watches from many of the most prestigious Swiss watch houses such as TAG Heuer, Rado, Raymond Weil and Gucci.
Peter Jackson, our Managing Director travels regularly to New York and Antwerp – two of the world's largest diamond cutting and trading centres, to purchase large quantities of loose diamonds on the international markets. This enables us to offer a wide and varied selection of diamond jewellery at highly competitive prices.
Over the years, we are honoured to have won a number of prestigious awards including UK Independent Jeweller of the Year and a number of training awards. We were also delighted to win the East Lancashire Retailer of the Year award just a few weeks after Sharon Bibby, the Manager of our Blackburn store won the coveted UK Jewellery Manager of the Year.
Perhaps the most exciting award came in 2012 when it was announced in the Queen's Birthday Honours list that our Managing Director, Peter Jackson was to be awarded an MBE by Her Majesty the Queen for services to charity.
Peter Jackson says "We are selling a luxury product and our customers have come to expect us to offer a standard of service which is second to none. I am proud that our team has been acknowledged as the best trained in the business. They are great people who thrive on excellence."