The fashion industry seems to have gone Gucci mad over the last four years. Alessandro Michele's appointment as Gucci's creative director, has driven the brand in a direction that many would not have expected, especially those who were more accustomed to the brand famous for 'boutique brown' and gold with dashes of the Italian flag. Despite anyone's opinion Gucci have without doubt become an even bigger powerhouse in the fashion world.
Alessandro's vision is certainly not conservative with his designs, a 70's-esque feel with wild colours and patterns has grown this megabrand. Gucci is no longer just a fashion brand, it's a symbol, a statement, it's an adjective word! The latest design straight from the 70's that is sure to be the hottest fashion led watch for Christmas is the 'Gucci Grip'
The Skateboard Design.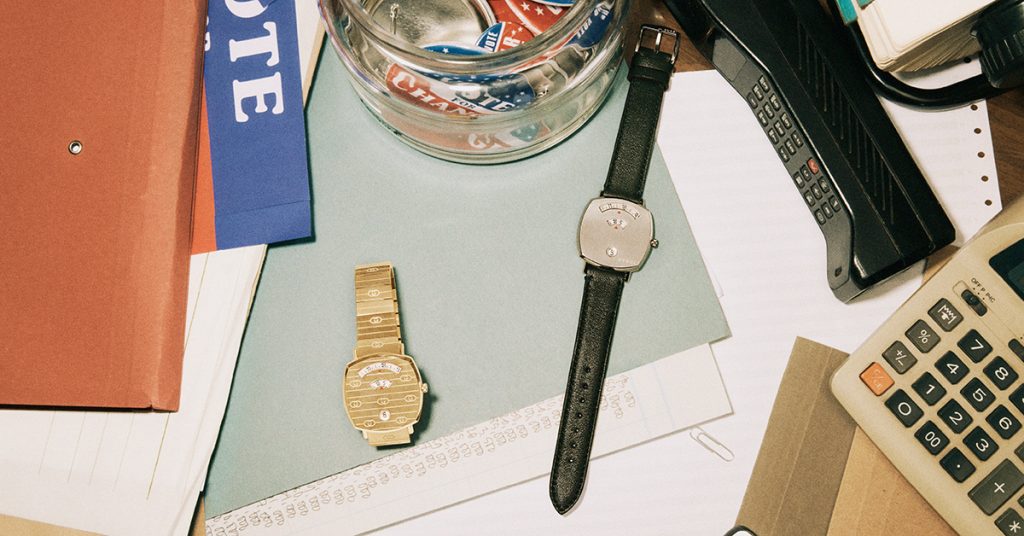 The name explains a lot, the Grip is meant to replicate the grip on the top of a skateboard. The lined pattern featuring the 'GG' logo is a representation of the grip, though not all models feature this pattern some are more understated in design.
One thing that is used throughout is the distinctive case that is not quite squared and not quite round, but certainly has a recognisable look, again, another subtle nod to a skateboards design. Alessandro has been pushing for more gender fluid designs and this watch will be the first truly gender-neutral watch to come from the brand.
A New Way to View the Time.
Without question, one element that has people talking is the three-window element to the case. Rather than an encompassing glass, it's hard to argue if the watch even has a dial at all. But what it does have is three windows, to represent what you actually use a watch for, to tell the time and date. The top window is minutes, middle is hours and a lower window for the date.
Even the font on the numerals has a retro feel to it – almost digital like, but this watch is certainly not a Japanese digital movement; the same movement that took over the watch world in the 70's and 80's. True to Gucci's luxury form, this watch houses a Swiss made quartz movement. All of Gucci's watches are made in Switzerland; the home of luxury watches and movements.
Match Your Vibe
Are you a strap or a bracelet wearer? Well the great news is the 'GRIP' comes in many styles with both hand-stitched leather straps and adjustable bracelets. The first line of watches is expected to be the first of many, as Gucci will surely develop the Grip further.
Currently you can choose your combination of patterned or plain cases in both 316L surgical grade steel in its natural silver colour or a gold pvd finish. Then you can combine with your choice of matching bracelet or an alligator leather strap in green or bordeaux burgundy.
An Original Iconic Piece.
One question we are asking ourselves is, do we have a truly iconic watch in our midst? As Gucci continues to break the rules of fashion and grow, no one can argue at this moment in time, that Gucci are the number one trend setters in the world. So, with this first batch of Gucci Grips, could you be buying into a revered iconic watch, that will be more sought after from Gucci aficionados in the future?
Very few watches make us think this way, but because the Grip is so distinctive and no other luxury brand is producing anything like this, it's certainly is worth the question.
More information and purchasing details can be found on the individual listing for the Gucci grip via this link.
Danny Bond P.J Dip