Since Baselword 2019, we along with many Oris stockists have been tight lipped about the arrival of the latest and greatest in-house movement watch to be introduced by Oris. As per usual, a standard meeting on Oris's impressive stand in the Basel convention hall of Messe Basel was set up with the Swiss watchmakers founded in 1904. Unusually this year we were whisked away into a dark room void of light, with our laptops and mobiles confiscated. After a short introduction, a VR headset was affixed to our heads and a full 360-degree immersive video was played to us as we wandered around the inside of the latest movement from Oris. Now this may sound strange and it was, but the combination of this awe-inspiring cinemaphotography along with the dramatic music was captivating.
It has now been six months since we were first introduced to this watch, with an embargo finally being lifted we, along with the rest of the watch community can talk about possibly the most interesting watch to be released in 2019.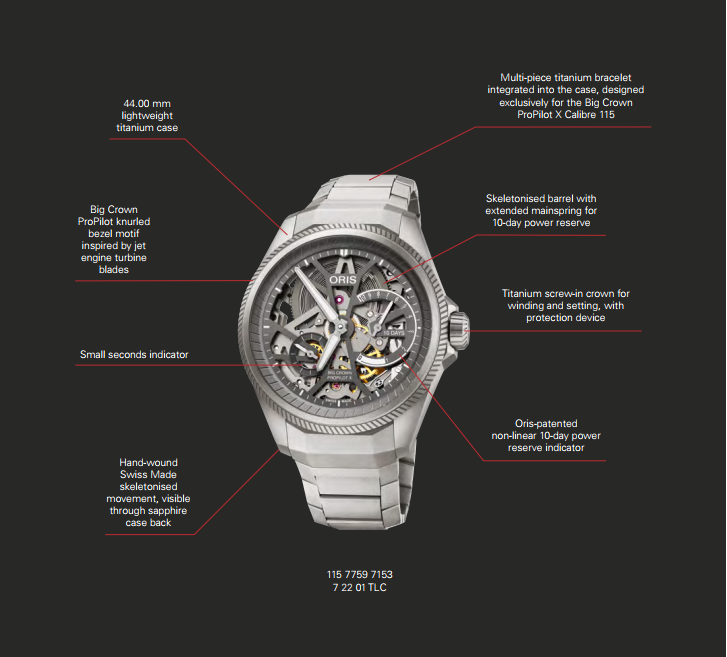 The Concept
In total, around two years Oris have been developing the 'ProPilot X Calibre 115', a watch Oris are so excited about they have gone as far as to declare this watch as "the most Oris watch we've ever made – every watch that went before it has led us to this point." So, what is so unique about this timepiece?
This watch has taken Oris's current in-house movement concept of a patented 10-day power-reserve and skeletonised it down to a form where everything is laid bare for all to see. A skeleton watch is not unusual but the way Oris have produced this concept with their calibre 115 certainly is.
The Calibre 115 Movement
A hand-wound movement with a 10-day power reserve operated through the single crown of the watch is the technology Oris created to celebrate their 110th anniversary. Since then extra complications have been added to this now base movement of the 'calibre 110' to evolve the collection at a greater rate, with this year being the linear introduction of the calibre 115. To strip back a full movement to a skeletonised version is no mean feat, let alone to the degree in what Oris have accomplished.
The main issue with carving away at the full movement to make every element as visible as possible, is that you may take the risk of compromising the structural integrity of the movement. With this being said, Oris have done an amazing job of opening up this movement to the degree they have. My main visual delight that I take away is that of the barrell at 12 o'clock position is skeletonised so you can see the extended mainspring that is normally completely encased.
Winding the crown, now you watch on as the mainspring coils tighter… and tighter… until its fully wound. Normally a mainspring in a watch is small as you would imagine, with any mechanical watch movement, but the mainspring used to effectively be the 10-day power reserve in this movement is nearly gargantuan and now you can see the coil and appreciate the greatness of this patented technology as it ever so slowly unwinds, looking different at each glance.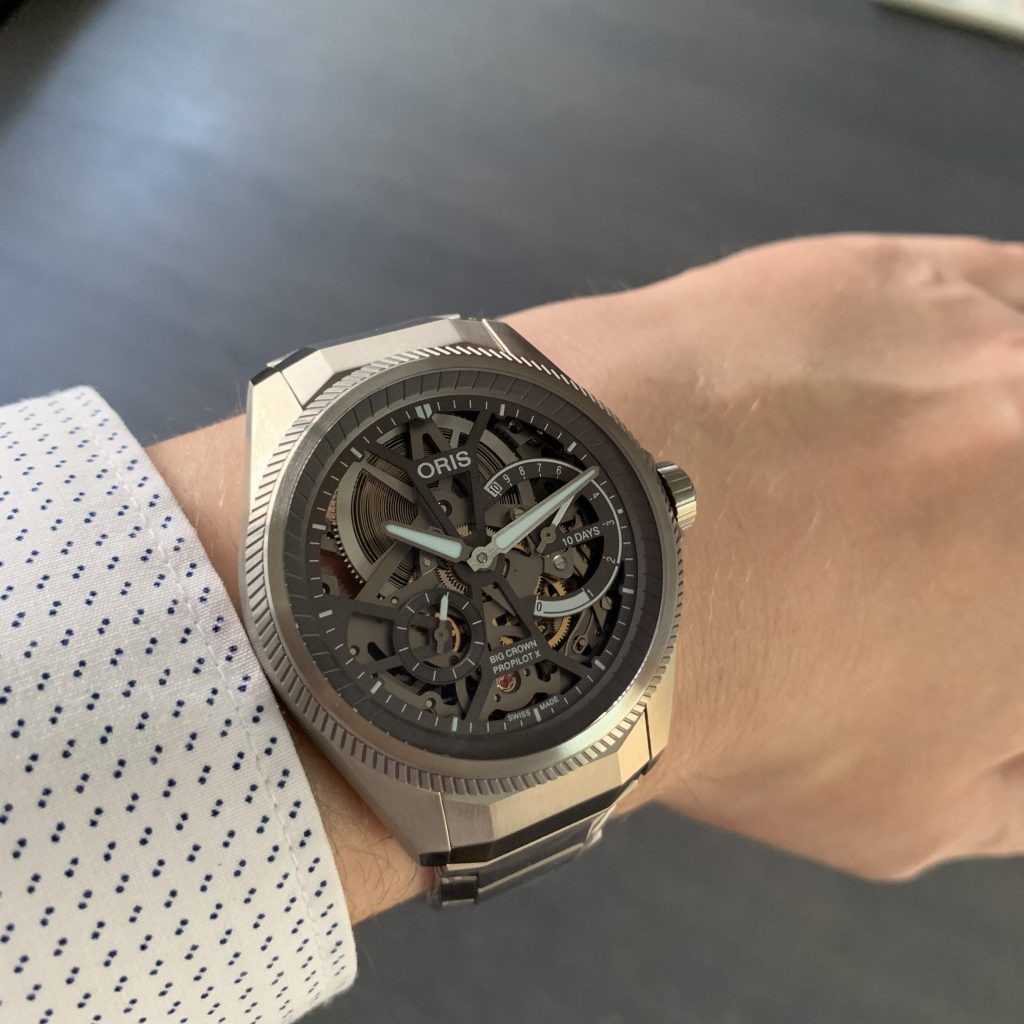 The look Of The ProPilot X
The first pilots watch with Oris's famous 'big crown' was introduced in 1917, since then the big crown has lent itself to Oris's history in many forms. Ease of use and readability is vital to a pilot's watch, certainly in the days of turboprop planes, before technology passed from being a distraction to a must have, hence the big crown, but the evolution of this line of watch has come to the first Oris Big Crown watch to feature no numerals, to greatly enhance the hollowed out movement.
A multipiece 44mm titanium case looks and feels raw as each part is not polished or faceted or as Oris put it "No flashy colour palette. No pointless complications. It's essential, It's crafted, It's alive." I love this concept because if you want to produce an outstanding movement at a great price point for haute horology enthusiasts, then let the movement be the focal point, allow the wearer to appreciate the craftsmanship, luxury doesn't have to be ostentatious.
If you prefer understated and workmanship or are big believers in Oris's moto of 'Go Your Own Way' then this watch may be the luxury collectors watch, you have been looking for. Limited deliveries of this special timepiece are expected for 2019 with only around 40 arriving in the UK, to which we have secured two. For all enquires please contact us for more information or book an in-store appointment for a private viewing of the ProPilot X 115 via this link.
Danny Bond P.J Dip