Pink tourmaline is the most popular birthstone for October; this blissful birthstone will make a delightful edition to your jewellery collection. The pink hues of the tourmaline will add bursts of colour to the simplest of outfits.
Pink tourmaline is believed to influx of love, joy and happiness into your life.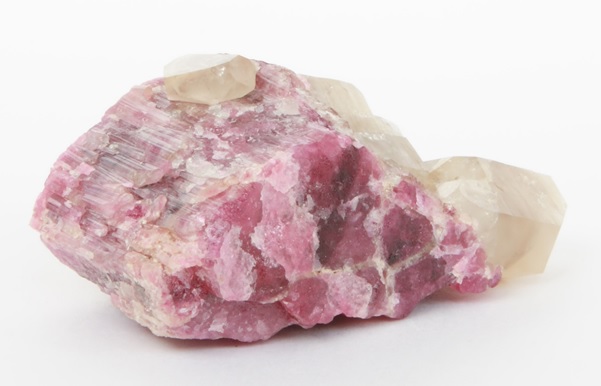 Pink tourmaline in its rough state.
Pink tourmaline has played and intriguing part in royal history. The deep rich pink/red colour of tourmaline had many people fooled. Back in 1926 Cesar's "Ruby" necklace was part in the Russian crown jewels. However later that year a professor made a breath-taking discovery! The "ruby" necklace was in fact rubelite (red tourmaline).
As well as the October birthstone tourmaline is used to commemorate an 8th wedding anniversary.
Tourmaline can be found in an array of colours, from rich reds, deep blues and even green! An extremely rare form of tourmaline is the Pariba tourmaline, found in Brazil. The richness in colour of the Pariba tourmaline displays similarities to a blue sapphire.
FACT: Tourmaline comes from toramalli, which means "mixed gems" in Sinhala, one of the languages of Sri Lanka.
One of our favourite pieces of jewellery is designed by a gentleman called, Sheldon Bloomfield. Encapsulating the green, colourless and pink tourmaline, this 'watermelon' tourmaline creates a truly mesmerising piece of jewellery.
Our bespoke Sheldon Bloomfield collections are available to view in our stores.
Simple gift ideas: The Thomas Sabo pink and white bracelet co-ordinates perfectly with the pink October birthstone charm.
No beauty shines brighter than that of a good heart. Showcase your beautiful Anais birthstone charms in a clear heart locket.